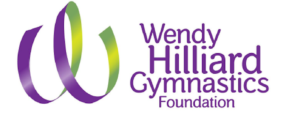 Virtual Gymnastics Classes 
Class registration is through iClassPro. 
Single Classes are $20 click links below or 4 classes for $60 Click here! 
Ages 3-4 Saturday Class 9-9:45 am
Ages 5-6 Saturday Class 10-10:55 am
Ages 5-6 Tuesday Class 5:30-6:25 pm
Ages 7-9 Saturday Class 11-11:55 am
Ages 7-9 Thursday Class 5:30-6:25 pm
Ages 10+ Saturday Class 12-12:55 pm
Boys 7-17 Saturday Class 12-12:55 pm

Intermediate Tuesday & Thursday Class 6:30-7:30 pm This class is invitation only.
 Email programs@wendyhilliardfoundation.org for tryout information.
All Classes will be via Zoom. 
Participants will receive a Zoom link following registration via email. 
To ensure proper warm up and safety, students will not be allowed entry after 15 minutes. Entry will be waived to the following class.
*Class capacity is limited so sign up soon!*
to access digital workouts with WHGF coaches